By Mazi Nwonwu
Lagos Comic Con 2016 was my very first comics convention and I found myself hedging my expectations as I manoeuvred my car into a rather tight space that a friendly security guard had indicated between two others cars opposite the venue.
Lagos Comic convention started in 2012 to serve as market place of ideas and networking for people in the design, movie, gaming and comic book sectors in Nigeria. The event is organised by Ayodele Elegba and Austine Osas of Spoof Animation. Two years before, misinformation on social media had sent me on a wild goose chase in Yaba as I sought for a venue that turned out to be in Ikeja – on the other side of the city – and much closer to my apartment. By the time I found out I was in the wrong part of town, I was too flustered to make the switch and drove home instead. Last year, my work made it impossible for me to attend. So this year, I started planning my attendance months beforehand and used Google Maps to make sure I narrowed the venue to a 'T' – and even got to the site early.
Though I have had no physical experience of the ambiance of a comics convention, years of active nerdiness and the wonders of today's internet meant I wasn't lacking in references. As such, what struck me as I crossed the dual lane road and entered the venue proper was the dearth of some of the things I'd come to expect from a typical convention. This was the biggest comic book event in Nigeria so, 'Where are the cosplayers?' I wondered as I paused before the banners announcing the convention at the entrance.
Inside, it was immediately clear I had little business pondering about ambiance. While the outside exuded a calmness uncharacteristic of Lagos, inside it was nerdvile 2.0. It had all the trappings you'd expect from this type of event, albeit on a smaller scale than what you'd find in the global west and east. Yeah, there weren't many people dressed as their favourite anime or fantasy character happily prancing about, but there was a lady dressed as Supergirl standing by a stage at the end of the hall watching a comedian telling jokes in Pidgin English and a neon sword wielder of two. And I am sure I saw Iron man walking towards the exit. Perhaps as the years bring more comic conventions and the cosplay culture catches on, we will begin to loosen up. J
But then, there is more to conventions than cosplay, right?
The large hall was packed. There were hundreds of people milling around the several dozen exhibitor stands. These stands advertised comic book start ups, virtual reality headsets, graphic designers, e-publishers, and one had a table loaded with cosplay costumes, so yes—there is a potential of this catching on.
The atmosphere was celebratory with an underlying sense of organised chaos, but I could also see that there was room for more people, more organisation and definitely more cosplays.
I got a taste of the artistic potential in the room when I moved over to an artist whose depiction of The Joker captured my interest. Daniel Inniel's response to my query about what he was looking forward to at the convention was terse: 'I am here to look for sponsorship!' he said and he hoped his art would attract the right sort of investor.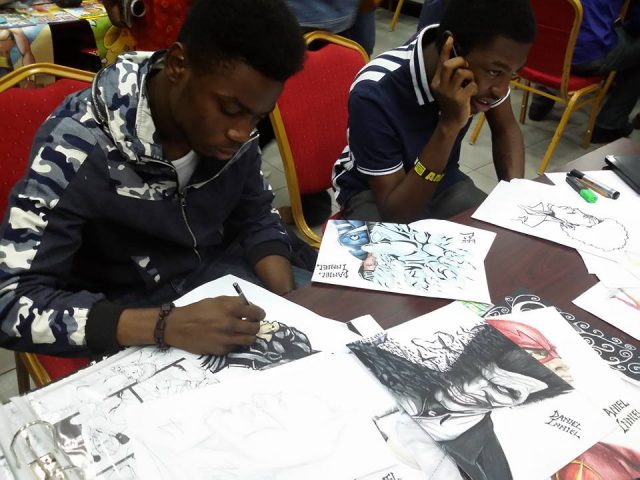 As taken as I was by Daniel, it was the business savvy of 10-year-old Victoria Ochuba, a junior secondary student of Holy Child College in Lagos, that blew my mind. The youngest exhibitor at the convention, Victoria informed me that she had started taking drawing seriously when she was just five years old, and saw it as a tool for self-expression. Where Daniel was looking for someone to sponsor his work, Victoria had her eyes fixed on becoming an internationally recognised artist and holding exhibitions across the globe. She informed me that she had sold her first painting, a drawing of Mickey Mouse, for 500 Naira to her friend and that the most expensive painting she'd ever sold was a nature painting for 4000 Naira. After I bought a painting of two puppies from her, the budding entrepreneur told me that she saw art school in her future.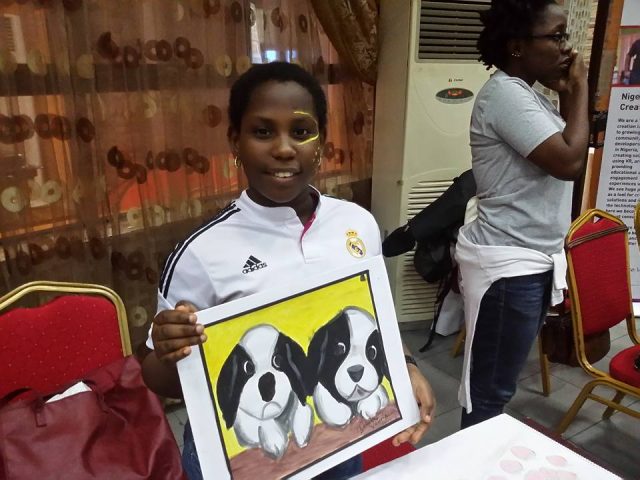 Not far from Victoria's stand, amidst the sea of superhero comic start ups, a particular stand drew my eyes. Nigeria is noted for religiosity. To not identify as a Christian or a Muslim in this country is to be seen as an 'other' — a dark other, that needs to be delivered from all evil.  In this environment, it is no wonder comics of the type that deal with people flying on their own power, shooting bolts out of their eyes and doing many other impossible things, are finding it very difficult to find a foothold.
Finding a foothold is not something that Mr Jaiye Ojo's Bright and Morning Star is struggling with. Focusing on retelling popular bible stories in comic version – with the added intrigue that these stories are set in a space travelling future — is a brilliant way of navigating the cultural hang-ups in a country where comics are often viewed with suspicion by the religiously inclined. What we have is a marriage of Christianity and science fiction, something that is not unusual, but where the usual time machine-centred bible story takes kids back to bible times, Bright and Morning Star's world is in the future.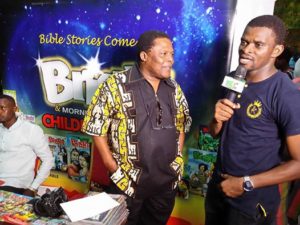 Bright and Morning Star, has been in business for eight years (and very successfully, according to Mr Ojo), is a ready example of the possibilities inherent in the Nigerian comic book, animation and gaming sector.
'The business side is very, very good. We conceive and produce the comics here, but we have an international market already,' Jaiye Ojo said.
Some of the biggest names in Nigerian comics were also on ground. Youneek Studios, who publishes E.X.O., a comic that is also online as an animated series, was a hit as fans clustered around their stand.  I wondered if the pricey nature of the well-drawn comics wouldn't be a deal breaker for some, though I couldn't find out if this was so because other stands drew my eyes and the vendor was very keen on responding to questions.
Other Encounters
Peda Studio publishes Newborn, a comic that is centred on African legends, empires and heroes. Their idea is to educate while they entertain.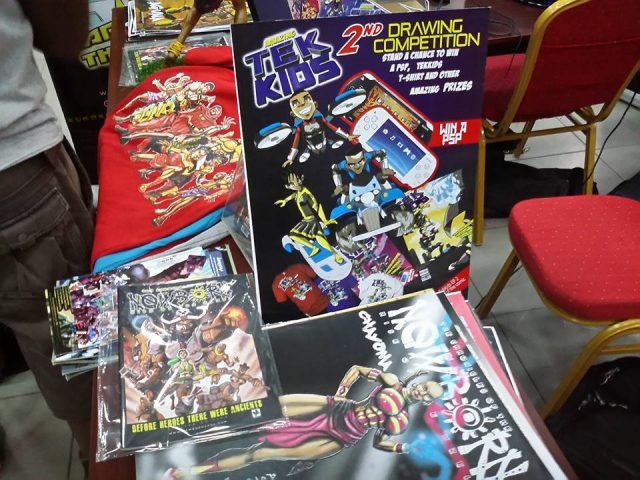 Kenneth Unamba is a writer who wrote several stories for New Nigerians, a comic I just discovered and have absolutely fallen in love with. They publish one edition of the comic each year, but are looking to increase it to two by next year. I was impressed by the art in the New Nigerians, and Kenneth, who was at the convention with his family, assured me the artists are all home-based.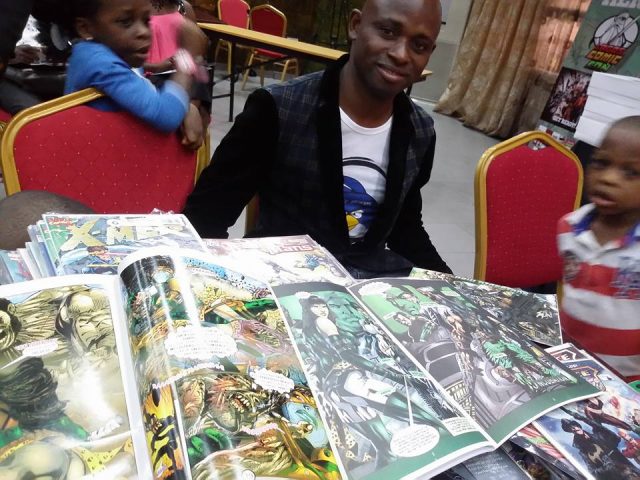 Off the convention floor, I met Somto Ajuluchukwu, who works at Vortex Comics, with whom Omenana may partner with in the future as we move to bring more exposure to the Nigerian comic book scene. Vortex was crowned Studio of the year and Somto had this to say about the honour: 'We experienced love and appreciation for one year of hard work and changing the dynamic. The studio of the year award was a testament. Thank you.'
I left the convention venue only 2 hours after I arrived. A short time, I know, but I had experienced enough sights and sounds to last me until the next convention in a year.