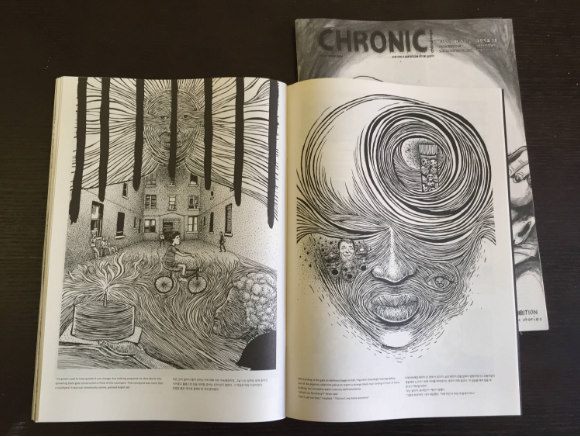 By Chiamaka Onu-Okpara
If you're addicted to the Chimurenga Chronic, the quarterly publication from the revolutionary Chimurenga team, you've probably already heard of the magnificence that dropped a few weeks ago. This latest issue of the Chronic draws on African speculative fiction, mysticism and mystery to fuel its pages. Utilizing graphics and illustrations as the dominant style of expression, this issue is the issue that will resonate with lovers of out-of-this-world awesomeness. It is the third part of a spectacular publication lineup for the SeMA Biennale Mediacity Seoul 2016, an art and culture exhibition hosted by the Seoul Museum of Art in South Korea.
Chimurenga does not deal in subtlety and this piece of art echoes that. It shows that the view of African speculative fiction as a recent rip-off of Western efforts is nonsense. This issue is a boulder thrown at the windows of those who dispute the existence of formally documented and original representations of African speculative and science fiction pre-Ben Okri, Nigerian author of the seminal African speculative fiction novel, The Famished Road.
The Chronic stirs, re-visits and stretches history by locating an intersection between black speculative sounds, musings, and writings. Thought-provoking illustrations show that the documentation of stories, whether fiction or non-fiction, are not restricted to dangling modifiers on Amos Tutuola's manuscripts. It can be the call-and-response to a moonlight tale. It can be the lilting voice of a troubadour as she sings the oriki of strong men, past civilizations, and the lives of the ancestors. It can be the haunting tale of the Sharpeville Massacre blown from Winston "Mankunku" Ngozi's saxophone.
This issue, titled The Corpse Exhibition and Older Graphical Stories, begins by leading us through the non-graphical streets of Kinshasa. There, we meet the speculative comic illustrator Papa Mfumu'eto whose life and work is chronicled in Nancy Hunt's story "The Emperor of Kinshasa". Mfumu'eto's comics were produced from 1990 to the early 2000s and we are immersed in his world of magic and gore with characters strongly reminiscent of beings from EC comics' Tales from the Crypt. At its height, his work prompted sharp societal commentary.
We drift off the streets into the air where we find the "T.W.A.D Squad" (a superhero group, reminiscent of Stan Lee's Avengers). These muscled heroes, illustrated by graphic artist Mo Hassan, are representations of influencers of African discourse. Call them The White Saviors of African Development (T.W.A.D). The squad schools us by holding a disjointed (and somewhat funny) discussion about globalization, foreign dependence and Africa in general.
Nikhil Singh's depiction of Kojo Laing's 1992 ecological sci-fi novel, Major Gentl and the Achimota Wars imagines advances in technology that seem alien to present Africa. Many novels written in the past year do not even begin to grasp Laing's fusion of animals, plants and humans in the craziest war ever. Meanwhile Phumle April's "Avions de Nuit" borrows creatures from Cameroonian and South African folklore to talk about slavery and the loss of power when you're away from your homeland. The story evokes the documented memories of the TransAtlantic Slave Trade. Here's an introductory text from the magazine:
"…Avions de Nuit are tiny vessels fuelled by the blood of their cargo, that make nightly flights across the Atlantic (or to neighboring oil economies like Chad, Gabon or Equatorial Guinea—nuff people in Nigeria) carrying passages[sic]into slavery. According to news reports, they could be as small as an empty tin of sardines or even a box of matches—yet despite their size any one of these planes can carry as many as twenty vampires and fly out to great distances, with a common goal—to suck dry human beings.
The shell-body that remains would be asked: "who sold you?"
This issue's dominant use of illustrations pays homage to artists from Africa and beyond. The choice of visuals is excellent; their slap-dash, flash-fiction feel lends urgency to the issues subtly or explicitly raised in each of the stories. In this age of low attention spans and lazy readers, feeding interesting, in-your-face data to audiences helps keep them engaged. Like all great art, the Chronic's illustrations are not one-dimensional pieces. They are open to interpretation and resonate for their ability to stimulate what if's, so what's and this is crap reactions.
The Chronic's cross-section of works examining the power of language, economics, folklore, music, and several other fields, appeals to most people's sensibilities, or lack of any. Powerful themes like alienation and the fleeting nature of life are also mashed into this mix.
Beyond the clichés of ghosts, ghouls, zombies, spaceships and the post-apocalypse, this is an affirmation that African speculative fiction does not lean towards the predictable. With the spotlight now on African speculative writers like Tade Thompson, Wole Talabi, Nnedi Okoroafor and Dayo Ntwari, these nonsense mentalities are being dispelled and Africa is gaining a much deserved stand on the world's SFF stage. The Chronic's graphic adaptation of these blasts from the past show how important it is to immortalize and remember our own history. A lion preserved in amber cannot be mistaken for a donkey.